Threading
Threading, a process for shaping eyebrows and removing facial hair, is now available at Hair Nova Salon in Lincoln. Called "Band" in Persian and "Khite" in Arabic threading has a history that goes back more than 1000 years in Eastern cultures. It is now becoming popular in Canada and USA. Threading gives clean lines and professional shape to eyebrows. It also effectively removes hair from the upper lip, chin and sideburn areas of the face.
The threading procedure involves the use of pure cotton thread that is twisted and rolled along the surface of the skin. The hair becomes entwined in the thread and is then lifted from the follicle.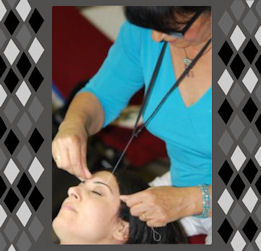 Threading is fast, sanitary, healthy for the skin and has long-term financial savings. It is generally considered less painful than plucking ("tweezing") and the pain is minimal considering the larger area that is covered at one time. Skin irritation and rashes are greatly reduced and usually do not occur.
Threading is one of the regular services provided by Farideh Nasseri at Hair Nova Salon. She is also a licensed barber and a licensed hair stylist. She learned these trades as a young woman and has practiced in several countries before coming to Fredericton in 1988.
Visit Farideh at Hair Nova Salon in Lincoln for fast and professional and friendly service.